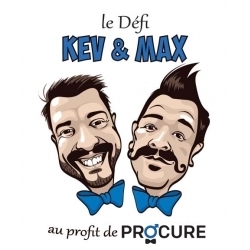 Défi Kev & Max Cascades
(scroll down for english.)
Le Défi Kev et Max est une initiative de Maxime Rodrigue et de Kevin Doucette qui, depuis 2011, conduisent une levée de fonds pour PROCURE tout au long du mois de novembre. Habituellement centré sur les unités d'affaires de Cascades situés à ou près de Kingsey Falls, cette année, Kev & Max font le saut en virtuel via ce site et ce pour toutes les unités d'affaires de Cascades au Québec et dans le reste du Canada.
The Kev and Max Challenge is an initiative of Maxime Rodrigue and Kevin Doucette who, since 2011, have been conducting fundraising events for Procure throughout the month of November. Usually focused on Cascades business units located in or near Kingsey Falls, this year, Kev & Max are making the virtual leap via this site for all Cascades business units in Quebec and the rest of Canada.
Donors
44 minutes ago
Maxime Rodrigue
18 hours ago
Sylvain Fréchette
5 days ago
Marc-André Grégoire
Merci de votre s'occuper de cette cause qui est importante, surtout lâchez pas ! MAG
11 days ago
Isaak Pellerin
Bravo pour votre implication!
13 days ago
SYLVIE DAIGNEAULT